Freedom Stations
Do you have guests or staff that need to stay powered with max mobility not confined to any boundaries, such as airports or security services?
Do you seek a charging solution that provides max mobility to enjoy their experience or stay productive all day with little-to-zero maintance from you or your staff?
Do you seek an automated, fleet charging solution that can also provide additional revenues through rental fees, sponsorships or unit purchases?
To solve the above listed needs of venue owners, staff managers and event organizers, GO PUCK developed the Freedom Station, designed as a convenient, revenue generating, low-maintenance charging solution.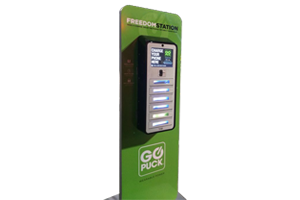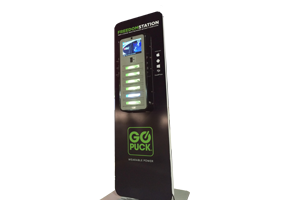 With the Freedom Station, you can enjoy the following benefits:
Increased satisfaction and productivity by keeping  your guests and staff powered and connected with max mobility in your space
Automated and robust, the Freedom Stations provide an easy way to collect customer payment and contact information for future promotions should they opt in
When idle, the large monitors allow you to showcase special offers or for sponsor logos or ads to be played viewable from afar, providing you with a new revenue generator
Option to co-brand the units provides prime real estate for increasing brand awareness or an additional means for generating sponsorship revenue 
Simple industrial design allows for low-maintenance and servicing from you or your staff
Enjoy peace of mind for by relieving your  guests and staff of "dead device" anxiety
Experience convenient charging by providing the easy to wear, mount or store, handsfree units
Reduce wait times with fast-speed recharging capabilities and easy swapping of units
Stay future proof and scalable with modular design
Low enting power out and collecting payment with a security deposit is easy to implement
The Freedom Station is a ideal for:
Airports
Logistics operations
Ski Resorts
Theme Parks
Sporting arenas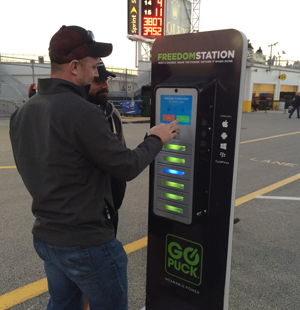 To get your guests satisfied and your workforce productive, the need to stay powered and connected to devices has never been greater.  
By taking the necessary steps to provide mobile power to your guests, you will enable them to stay longer, increase spending and increase your social media reach. 
Empower your guests and staff today!
(Available for lease or purchase)
To learn how you can get a Mobile Freedom Kit or get more information, please submit your contact information below: